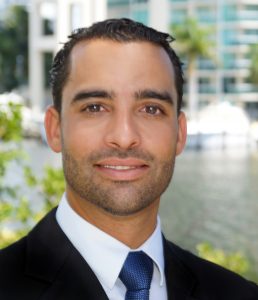 Name: Matthew Llorente
Title: Managing Broker
Company: Global Group Realty
What was your first job in the realty industry? My first job was with Keyes Commercial in 2007.
Where did you grow up? I was born and raised in Miami.
Growing up, what did you want to be? Growing up, I wanted to own a company.
What do you do to relax when you're stressed? I love to go fishing and travel.
If you could have lunch with a well-known figure (living or not), who would it be and why? If I could have lunch with a well-known figure, it would be with Mother Teresa. She was such an amazing person that has inspired so many people and impacted countless lives.
Where is your favorite place to hang out? My favorite place to hang out is on the boat with my family.
What do you love most about the industry? I love so many different aspects about our industry. What I love most is helping people make their dreams come true.
How do you distinguish yourself from the crowd of agents? Starting out in commercial real estate really differentiates me from many other agents. Most agents start in residential and move to commercial, not vice versa. I have a great understanding of many different aspects of the business.
What is the most difficult aspect of your job? The most difficult part of my job is overcoming all of the obstacles that come up during the transactions.
What has been your greatest accomplishment? My greatest accomplishments are my two kids. I have two boys (aged three and six). Nothing has ever brought me the joy and happiness that they give me everyday. I try to be the best example and give them a strong foundation in order for them to succeed in life.
What was the last good movie you saw or book you read? The Shack
What is your favorite restaurant? My favorite restaurant is Sylvano's in Miami Beach. It is a quaint "off the beaten path" restaurant with great, authentic, Italian cuisine.
Architecturally speaking, what is your favorite building in Miami? The Freedom Tower
What kind of car do you drive? Mercedes E350
Smartphone or paper? Both
What is your favorite city after Miami? Savannah, GA
In 10 words or less, what is your advice for someone new to the industry? Persevere, work hard, and find your niche.