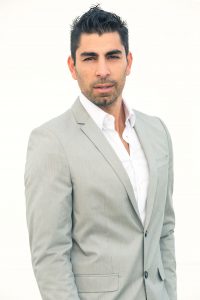 Name: Claudio Duarte
Title: Real Estate Agent
Company: Bazante Realty Group
What was your first job in the realty industry? Loan Officer in San Diego, CA
Where did you grow up? Buenos Aires
Growing up, what did you want to be? Soccer player and movie director
What do you do to relax when you're stressed? Play soccer, gym, run on the beach
If you could have lunch with a well-known figure (living or not), who would it be and why? Brunch with Lionel Messi in South Beach, because he is a great humble leader.
Where is your favorite place to hang out? Any place in Wynwood, Brickell, Miami Beach
What do you love most about the industry? I love when people trust in me. Meeting people from different cultures is great.
How do you distinguish yourself from the crowd of agents? I have honesty, charisma, trustworthy. There are lots of liars out there with no education, no manners and they sell luxury apartments only.
What is the most difficult aspect of your job? Dealing with other real estate agents – they never answer the phone when you need them.
Where do you go to network and meet new clients? Online, referrals, networking events, traveling
What has been your greatest accomplishment? Being a good person, but I also studied two careers in two different countries, got a real estate license in two different states, and travelled to over thirty countries.
What was the last good movie you saw or book you read? The Founder – it's a great movie for entrepreneurs. Book: The One Thing by Gary Keller
What is your favorite restaurant? Very hard to choose one. Any Colombian, Peruvian or Argentinean cuisine
Architecturally speaking, what is your favorite building in Miami? Porsche Design Tower
What kind of car do you drive? Toyota and Nissan
Smartphone or paper? Both are important.
What is your favorite city after Miami? From over 300 cities I have visited: I choose my home city Buenos Aires, and Tokyo.
In 10 words or less, what is your advice for someone new to the industry? Persistence.
What's your favorite real estate iPhone/Android app? GoMLS Miami
Who are your favorite people to follow on Twitter? @MiamiAgentMag but Twitter is getting obsolete. I use Instagram.