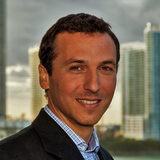 What was your first job in the realty industry? My first experience in this industry was as an investor about 10 years ago. I knew real estate was going to a be a very important part of my life ever since. A few years after, when the time was right, I got my license to fully dedicate myself to this amazing business.
What do you do to relax when you're stressed? Working out and playing soccer are two things I enjoy very much and help me release any tension built up from work. I also enjoy reading and spending time at home.
Where did you grow up? I was born and raised in Buenos Aires, Argentina. I moved to this country 15 years ago to attend college, and after graduation I made Miami my home.
Growing up, what did you want to be? As I mentioned, I love soccer, so being a professional player was a dream for me when I was a little kid. I would also say at the age of six or seven that I was going to have my own business and investments after I had retired from playing. I always had a deep entrepreneurial personality and was very attracted to the business world.
If you could have lunch with a well-known figure (living or not), who would it be? It is hard to name just one. On a personal level, I would love to spend some time with Mother Theresa or Ghandi.
On a professional level, it would definitely be incredible to have a conversation with Warren Buffett. Not only for his brilliance but also for his humility being at that level of success.
Where is your favorite place to hang out? Miami offers many alternatives to have a nice time. I think Wynwood nowadays is a perfect choice to gather with friends and experience great food and arts combined.
For a more relaxed and personal time, a sunset stroll or jog at South Point Park is a perfect alternative.
What do you love most about the industry? I love the fact that it allows you to modify people's lives in a very positive way. It can be by researching, analyzing and finding the best investment alternative a for a client as well as getting the best deal for a family's dream house or could be finding that perfect place for first time homebuyers. To see the expression on my clients' faces and how this properties will start a new, improved phase in their lives makes it all worth it.
How do you distinguish yourself from the crowd of agents? I differentiate myself by constantly educating myself and becoming a better professional every day.
Being committed to my clients' goals and needs in order to deliver the best service and advise whether be an investor or a renter all my clients get my full attention and service.
I also bring to the table the structure, technology, network and database that I have been developing throughout my career. It allows me to find many more buyers or sellers than what the exposure generated through the MLS will get a standard agent.
I always put my clients' interests first and guide them through the process from beginning to end. I provide accurate and honest feedback (based on research and analysis) regarding the best alternatives and options available for their situation.
What is the most difficult aspect of your job? We work in an Industry where about 85 percent of agents don't work full time and just try to close a deal or two a year and don't take it too seriously. Thus, the level of service and industry knowledge can be very limited. Therefore, a negative image is created by these unfortunate experiences. Dealing with that image can sometimes be difficult until you break that barrier where they can really perceive who is a true professional.
Where do you go to network and meet new clients? Referrals are always very important. The results from very well done work is unbeatable and will lead to new clients. However, I am a strong advocate of helping out and giving back through charity. This is also a great way to network and get to know great people who might eventually turn into clients.
What has been your greatest accomplishment? I get a great sense of fulfillment every time I get to find the right property for any of my clients. That is the best accomplishment professionally.
Personally, being able to give back to the community, whether it be here in Florida or overseas in other countries, is the best accomplishment to me as a human being.
What was the last good movie you saw or book you read? I just finished reading "The Compound Effect" by Darren Hardy.
What is your favorite restaurant? I really like many types of food, so there are many options to choose from. One of my favorites is Cena by Michy. Their food and combinations are excellent.
Architecturally speaking, what is your favorite building in Miami? The Miami Tower is a landmark of this city, so I cannot leave it out. The Freedom Tower is another one that I cannot omit as it represents our city as well.
What kind of car do you drive? I drive an Acura 2015.
Smartphone or paper? Both. Even though Smartphones are essential to our daily operation, a note or a short list written down on paper is key for me.
What is your favorite city after Miami? There are many amazing cities depending on what you look for. I would pick Paris and New York.
What is your advice for someone new to the industry? Just be patient and try to have a plan. That will allow you to take actions and measure the results. Work very hard every day and try to surround yourself with people who know more than you and get advice regularly. Also try to educate yourself as much as you can and eventually it will all pay off.
What's your favorite real estate iPhone/Android app? GoMLS.
Who are your favorite people to follow on Twitter?
@DouglasElliman and @trdmiami (the Real Deal) to keep me informed.
Do you want to be featured in our Agent Snapshot? Fill out our questionnaire, and you'll be featured too!