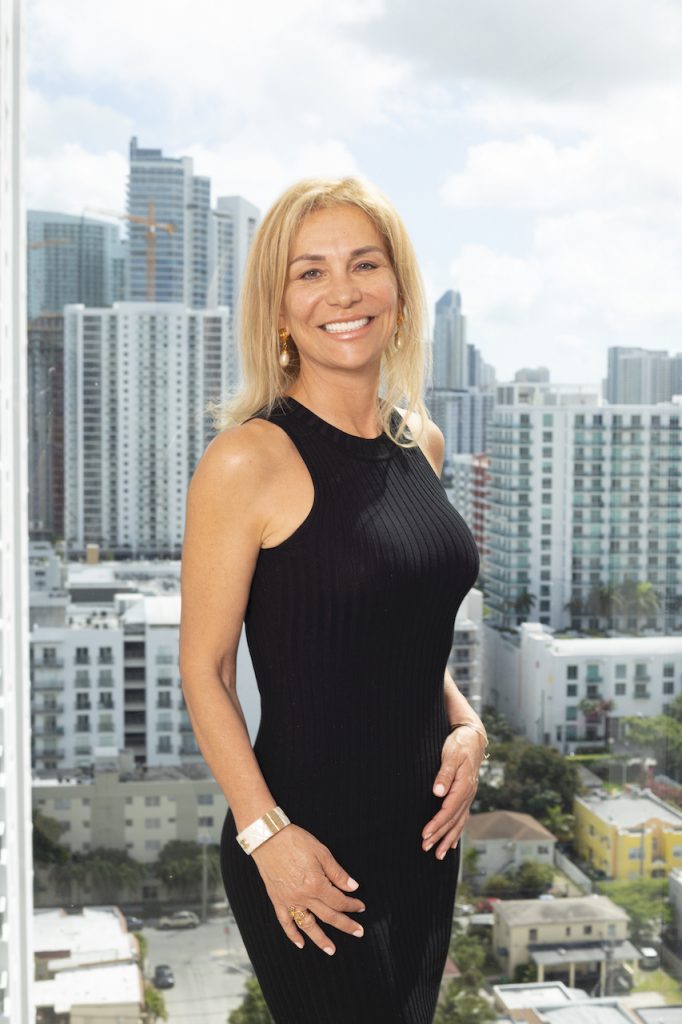 What was your most interesting job before going into real estate? I worked in music television for about 12 years. I started as a programming coordinator/executive producer assistant at MTV Latin America and worked my way up to talent relations director position, where I traveled extensively to interview local and international artists such as Sting, Jennifer Lopez, Ricky Martin and Santana.
Where did you grow up? I was born in Peru in Lima, close to the Pacific Ocean. I spent all my vacations at the beach. To this day, I am still very drawn to the ocean and go to the beach every weekend.
Growing up, what did you want to be? When I was very young, I wanted to be an actress. The passing of my father and my brother in my late teens changed my plans as I had to earn a steady income for myself and my mother.
What do you do to relax when you're stressed? I love going to the beach, reading, working out and spending time with my friends.
If you could meet any well-known figure (living or not), who would it be and why? I would like to meet Leonardo da Vinci, the epitome of the Renaissance man.
Where is Miami's best-kept secret? I love Fairchild Tropical Botanic Garden and Matheson Hammock Park, both located in Coral Gables. The 83-acre botanical garden is the only rainforest in the U.S. and features huge collections of rare and exotic trees, palms, flowers and fruits from all over the world. Matheson Hammock Park is a family-oriented park famous for its man-made "atoll pool" and its view of the Miami skyline. Both are awesome places to enjoy the natural beauty of Miami.
What do you love most about the industry? House hunting back in 2001, I would get emotional every time I entered a property and figured out how much it would cost me to renovate the property to my liking. A year later, I resumed house hunting since I was in a better place financially. That's when I decided to get my real estate license. I started my career as a real estate agent in 2003 and I truly consider myself as a matchmaker. I have always strived to take away the stress of the process away from my customers and make it as flawless as possible for them. Nothing is more rewarding to me than my customers' smiles at the end of the process.
What is the most difficult aspect of your job? Promoting myself via digital marketing and social media, spending hours watching tutorials on how to make and edit videos to be posted on social media is a challenge, but it has become part of the job.
What's your best advice for generating new leads? Network 24/7. I am old school and believe in face-to-face meetings, keeping in touch with customers on a regular basis and getting referrals, in addition to farming specific areas. Social media has also become an integral part of real estate.
What are you binge-watching/reading/listening to lately? I am about to finish watching Million Dollar Listing New York and moving on to the Los Angeles version. I'm reading The Million Dollar Listing Social Media: The Ultimate Social Media Marketing by Sebastian Acosta (not related to the show), and listening to The Secret on Audible. Books on my Kindle cue are Shoe Dog: A Memoir by the Creator of Nike by Phil Knight and Personal Power II, Awaken the Giant Within and Unlimited Power by Tony Robbins.
What's your favorite meal in Miami? Being Peruvian, Peruvian food is my favorite. I definitely have a soft spot for our hearty soups. They are my comfort food.
Architecturally speaking, what is your favorite building in Miami? The Villa Casa Casuarina, also known as the Versace Mansion, tops my list.
What's the weirdest thing that's ever happened to you on the job? I was holding an open house and started talking with a potential buyer who happened to be Peruvian. When he told me his last name, it sounded familiar and after a few moments, I realized he was part of a lost branch of my paternal family. When I told him who I was, he also realized we were related, and we talked a bit about our respective families.
What's one thing people might be surprised to learn about you? I am more reserved than people think. Also, I'm afraid of rollercoasters.
What's your favorite vacation spot and why? Any beach — Corsica, Sicily, Amalfi, Ibiza, Thailand, Bali and the list goes on. I collect sand from every beach I visit in an empty water bottle for a friend of mine in LA who actually puts them in containers to showcase in his house.
In 10 words or less, what is your advice for someone new to the industry? Build your client's trust and they will be yours forever. And keep in touch.