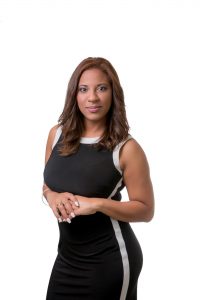 Name: Cindy Guzman
Job Title: Luxury Real Estate Consultant
Company: Ancona Real Estate
What was your first job in the realty industry? My first job was the sale of a $1.8 million dollar high rise condo in Miami Beach working with a group of investors.
Where did you grow up? I grew up in South Florida.
Growing up, what did you want to be? I wanted to be an actress and a doctor. The idea of making people laugh and helping them out is at the core of my essence.
What do you do to relax when you're stressed? I love to listen to a good audiobook while cooking. I find that ritual soothing.
If you could have lunch with a well-known figure (living or not), who would it be and why? If I could have lunch with anyone it would be with Dr. Wayne Dyer. His life's story truly shows that it's never too late to make the life of your dreams a reality, every day you have a new opportunity to be your best version, your past does not dictate your future, and that love can change anything. His teachings inspire people to elevate themselves to a higher standard.
Where is your favorite place to hang out? The beach is the one place that I go to disconnect and recharge.
What do you love most about the industry? What I love the most about real estate is the art of negotiation. When two parties come together and they both get what they want it is a win-win situation.
How do you distinguish yourself from the crowd of agents? What sets me apart from other agents is my level of positivity. This industry can be challenging and colleagues can be negative and deals may fall through. Keeping a positive outlook allows me to always remain calm under pressure, look for the best outcome to any situation, and transmitting that to my clients and to all the parties involved in a transaction can make all the difference in the world. This is the best way to truly enjoy what you do and allows others to trust you in the process.
What is the most difficult aspect of your job? I don't see difficult situations, only issues. When you do what you love, the solutions come and the glass is always half full.
Where do you go to network and meet new clients? For networking I go to several groups and I make it my priority to meet at least once a week.
What has been your greatest accomplishment? My greatest accomplishment in real estate was with my first deal. I was representing the buyer, who was an investor, and a seller that was a direct developer. It was the longest and hardest deal that I have ever done and in the end the developer was so impressed with my performance that I became their exclusive agent.
What was the last good movie you saw or book you read? The last good book that I read was, "As a Man Thinketh" by James Allen.
What is your favorite restaurant? My favorite restaurant is Sushi Hiro in North Miami Beach. I've been going there for years.
Architecturally speaking, what is your favorite building in Miami? My favorite building in Miami is The Estates of Aqualina. It is truly one of a kind.
What kind of car do you drive? My car is an oxford white Ford Flex Limited. It has enough space for my family and marketing materials.
Smartphone or paper? Of course my smartphone. I cannot live without it.
What is your favorite city after Miami? My hometown of New York. It has endless amounts of energy like no other place in the world.
In 10 words or less, what is your advice for someone new to the industry? Get a mentor and take all trainings from the board.
What's your favorite real estate iPhone/Android app? GoMLSmiami.
Who are your favorite people to follow on Twitter? Luis Ortiz. I love his passion for life and the pursuit of happiness.
---
Want to be featured in our Agent Snapshot? Click here and complete this survey. Agent Snapshots are published on our website and shared in our newsletter and social media feeds.