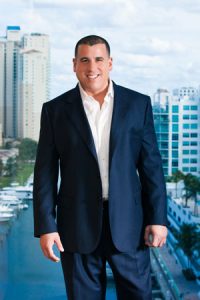 Name: Adam Kaufman
Job Title: Vice President of Sales and Operations
Company: Pordes Residential
What was your first job in the realty industry? Onsite sales executive at the Yacht Club in Aventura.
Where did you grow up? New York.
Growing up, what did you want to be? My dad.
What do you do to relax when you're stressed? Work out.
If you could have lunch with a well-known figure (living or not), who would it be and why? My uncle, Jerry Kaufman, who was a pioneer in the real estate industry in South Florida and still is to this day
Where is your favorite place to hang out? At home with my kids.
What do you love most about the industry? The interesting people from all over the world we get to meet.
How do you distinguish yourself from the crowd of agents? We are very hands on with every development we are involved in along with thinking outside the box for marketing and selling new developments.
What is the most difficult aspect of your job? Real estate is a 365 days a year job, and you have to balance work life with family life.
Where do you go to network and meet new clients? Any real estate event.
What has been your greatest accomplishment? My kids.
What was the last good movie you saw or book you read? Tools of Titans by Tim Ferris.
What is your favorite restaurant? Capital Grille.
Architecturally speaking, what is your favorite building in Miami? Bijou Bay Harbor, Kai at Bay Harbor and 101 Bay Harbor.
What kind of car do you drive? Scooter.
Smartphone or paper? Smartphone.
What is your favorite city after Miami? New York.
In 10 words or less, what is your advice for someone new to the industry? Learn your craft and market. Listen and accept constructive criticism.
What's your favorite real estate iPhone/Android app? Live Exclusively.
Who are your favorite people to follow on Twitter? My daughter.
---
Want to be featured in our Agent Snapshot? Click here and complete this survey. Agent Snapshots are published on our website and shared in our newsletter and social media feeds.
---
Read more from our Luxury issue