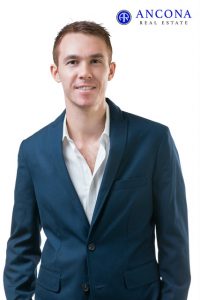 Name: Roman Semykin
Job Title: Realtor
Company: Ancona Real Estate
What was your first job in the realty industry? Realtor
Where did you grow up? Ukraine
Growing up, what did you want to be? Entrepreneur, soccer player, web designer.
What do you do to relax when you're stressed? Soccer, swimming, reading books.
If you could have lunch with a well-known figure (living or not), who would it be and why? John Altman ("Million Dollar Listing LA").
Where is your favorite place to hang out? Beach, boardwalk, Starbucks, Brickell.
What do you love most about the industry? The most exciting part about real estate is the constant movement and meeting new interesting people every day. It's a process of endless learning and improvement.
How do you distinguish yourself from the crowd of agents? I always make sure of his clients feel comfortable from the first greeting to the end of the deal. I put an extra effort for my clients to have the best experience and work with me again in the future. I go out of my way to find a solution to make clients happy, regardless if that's a buyer or seller.
What is the most difficult aspect of your job? Staying motivated and focused.
Where do you go to network and meet new clients? Young entrepreneurs groups, Russian Chamber of Commerce, art expositions.
What has been your greatest accomplishment? Moving to another country where I didn't have any friends or family.
What was the last good movie you saw or book you read? "It's Your Move," Josh Altman.
What is your favorite restaurant? Zuma, Nobu, Salumeria, Sushi Garage.
Architecturally speaking, what is your favorite building in Miami? 1000 museum Zaha Hadid, Missoni Baia, Una Residences.
What kind of car do you drive? Honda Civic.
Smartphone or paper? Both.
What is your favorite city after Miami? Chicago.
In 10 words or less, what is your advice for someone new to the industry? Stay focused. Don't let small problems distract you from your target.
What's your favorite real estate iPhone/Android app? Matrix, Dotloop, Instagram.
Who are your favorite people to follow on Twitter? John Altman, Ryan Serhant, Fredrik Eklund, John Olson.