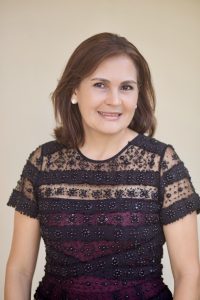 Name: Olga Ugartechea.
Job Title: Realtor.
Company name and office location: Yes Real Estate Services.
What was your first job in the realty industry? My first job in the realty industry was helping a client became a homeowner after paying rent for over 25 years in this country.
Where did you grow up? I grew up in Cali, Colombia.
Growing up, what did you want to be? Growing up, I wanted to be an interior designer.
What do you do to relax when you're stressed? I believe a physical activity is the best stress relief. My preference is bike riding.
If you could have lunch with a well-known figure (living or not), who would it be and why? Oprah Winfrey is a person I admire the most because she has been a role model and an inspiration to men and women.
Where is your favorite place to hang out? I love hanging out any place near the ocean.
What do you love most about the industry? I really enjoy showing and exploring properties.
How do you distinguish yourself from the crowd of agents? My clients are my priority, and I make sure that I'm available for them anytime they need me.
What is the most difficult aspect of your job? When it's a friend or family member who called someone else to help buy or sell their home. That can be a blow, especially because you could've earned at least a referral fee.
Where do you go to network and meet new clients? I meet new clients at open houses.
What has been your greatest accomplishment? Selling over $1.5 million in my first year
What was the last good movie you saw or book you read? "Blockers," it was hilarious!
What is your favorite restaurant? Sicilian Oven pizza in Aventura.
Architecturally speaking, what is your favorite building in Miami? Perez Art Museum.
What kind of car do you drive? Jeep Wrangler.
Smartphone or paper? I work with both, but little by little, I'm becoming more a smartphone type of person.
What is your favorite city after Miami? Orlando.
In 10 words or less, what is your advice for someone new to the industry? Education does not stop after getting your license.
What's your favorite real estate iPhone/Android app? iPhone RPR
Who are your favorite people to follow on Twitter? I don't use Twitter.