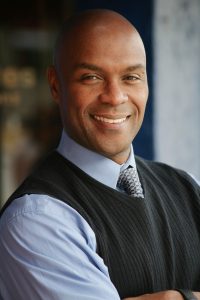 Name: Mark Newman
Job Title: Broker Associate
Company: EWM Realty International
What was your first job in the realty industry? In the real estate business as a sales agent, my first transaction was a two-bedroom rental.
Where did you grow up? I grew up between Jamaica, Massachusetts, and the last 32 years in Florida.
Growing up, what did you want to be? I was all over the place with what I wanted to be. I went from wanting to be a policeman to a lawyer then an actor. As a kid, I was exposed to lot of different cultures and I moved around a lot, so I was interested in many things.
What do you do to relax when you're stressed? As a father of a 10-year-old daughter — and we are very close — she sets the agenda of what I do when I'm not working. But on the few occasions when I have a free moment, I like to read a book or the newspaper.
If you could have lunch with a well-known figure (living or not), who would it be and why? For me, that would be President Obama. I would like to know what it felt like after he became the first minority to lead the free world. What went through his mind in that moment of solitude with no one around. I also would like his insights on what kept him focus while dealing with a country on the brink of economic collapse.
Where is your favorite place to hang out? I like to mix it up when I get the opportunity by going to see all the new hot spots like, Brickell, Wynwood, the Design District. But my local spot is YOLO and the Las Olas area.
What do you love most about the industry? I love the dynamic nature of the real estate industry. Things are always happening, there is so much information to digest. I like the stories about all the new developments and all the challenges that come with it. I follow the regulation aspect to see how the policy influence the outcome in each city as far as development. Then living the moment to moment push and pull when servicing my clients. And last but not least is understanding the legal parameters that we operate in while doing our business. It's a lot to have fun with!
How do you distinguish yourself from the crowd of agents? By knowing the product you're selling and understanding the needs of your client. Having confidence in your knowledge and make sure you have the data to support it. The most important thing I have found is knowing when to state your opinion and when to let the data speak for you.
What is the most difficult aspect of your job? For me, it's getting the customer who is ready to enter the market. Once I have a customer that's interested in the market, it's up to me to do my job. It's very difficult trying to convince someone who has no interest in real estate to invest in real estate.
Where do you go to network and meet new clients? Social events and business meetings. I get most of my business through word of mouth and direct referral from past customers.
What has been your greatest accomplishment? The birth of my daughter. Real estate is what I do, not who I am. At the end of the day, it's important to keep life in perspective. A high-dollar transaction is a good rush, but the next day, I'm back at work looking to do another one. Real estate is a means to and end for me, and that end is a purpose-driven life. And my daughter is that for me.
What was the last good movie you saw or book you read? I am in the process of reading Peter Thiel's "Zero to One." It is a really good read.
What is your favorite restaurant? I love going to Jimmy's Kitchen. Not fancy, but good casual food.
Architecturally speaking, what is your favorite building in Miami? I do like the Brickell City Centre building; it's the missing piece of the puzzle that was needed to connect the Miami downtown with the surrounding businesses and residential areas.
What kind of car do you drive? I drive a Mercedes 230.
Smartphone or paper? Smartphone all the way.
What is your favorite city after Miami? NYC.
In 10 words or less, what is your advice for someone new to the industry? Embrace all aspects of the industry and get to know them well.
What's your favorite real estate iPhone/Android app? Ekey and SoFlo MLS
Who are your favorite people to follow on Twitter? I like to follow institutions more than people; however, the people I like to follow are Leonard Pitts, Oprah and David Pogue. The rest are news outlets.