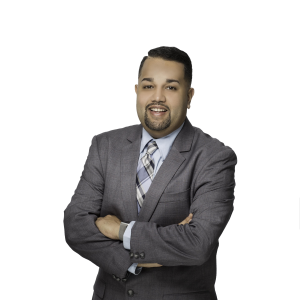 Name: Sean B. Ramrattan
Job Title: Realtor
Company: Real Estate Sales Force
What was your first job in the realty industry? Real estate professional.
Where did you grow up? Born and raised in Trinidad and Tobago.
Growing up, what did you want to be? An accountant.
What do you do to relax when you're stressed? Video games, especially PS4 FIFA. I feel like a kid again and all my worries go away!
If you could have lunch with a well-known figure (living or not), who would it be and why? Richard Branson, owner of the Virgin Group, which controls more than 400 companies, best known for Virgin Records and Virgin Airlines. I want to know what makes him not be complacent and how he marketed his brand so strongly.
Where is your favorite place to hang out? Brickell City Center.
What do you love most about the industry? Helping first-time homebuyers and seeing their tears of joy, knowing I was a part of them fulfilling their dream.
How do you distinguish yourself from the crowd of agents? I'm always available and I give all my clients 100 percent every time.
What is the most difficult aspect of your job? Having to tell a client that the property they got excited about owning and made an offer on was declined because someone else's offer was accepted.
Where do you go to network and meet new clients? Everywhere and anywhere. I'm a brand, and I'm marketing myself 24/7.
What has been your greatest accomplishment? In real estate, being a top producer in my company of more than 400 agents in just my second year.
What was the last good movie you saw or book you read? "Split" with James McAvoy. It's about multiple personalities. I highly recommend!
What is your favorite restaurant? I'm such a foodie that this changes every month, but currently KYU in Wynwood.
Architecturally speaking, what is your favorite building in Miami? New World Center, Miami Beach.
What kind of car do you drive? Lexus GS 350 F Sport.
Smartphone or paper? Smartphone is the majority winner, but I have Post-it Notes everywhere!
What is your favorite city after Miami? Chicago.
In 10 words or less, what is your advice for someone new to the industry? Always be available and answer your phone.
What's your favorite real estate iPhone/Android app? Is this a trick question? My app, of course!
Who are your favorite people to follow on Twitter? Not a Twitter person, but on Instagram, I follow Richard Branson and Jay Shetty.