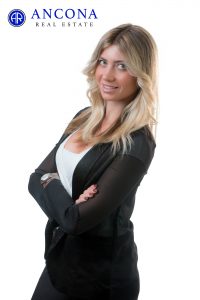 Name: Kaya Wolf
Title: Realtor Associate
Company: Ancona Real Estate Inc
What was your first job in the realty industry? I decided I wanted to follow my dreams when I was 22, back then I was living in Las Vegas and started my real estate career as a sales associate.
Where did you grow up? I grew up in a quiet neighborhood in the north of Tel Aviv, Israel.
Growing up, what did you want to be? I always had passion to the real estate world with a vision of myself investing in real estate and opening my own developing company.
What do you do to relax when you're stressed? I love working out, it always makes me feel good and relaxed at any time of the day. Usually I like to combine Pilates classes with some cardio.
If you could have lunch with a well-known figure (living or not), who would it be and why? Albert Einstein. He was a genius.
Where is your favorite place to hang out? I love to hang out at the beach, at sunrise or sunset. It's definitely the best hours of the day.
What do you love most about the industry? I love it all. I love helping people, if it's by finding their dream home or by achieving their financial goals.
How do you distinguish yourself from the crowd of agents? I believe nothing substitutes hard work, so being top agent means you have to be driven and dedicated. That's why I'm always out there hustling. I have a database of a local, national and international connections and relationship.
What is the most difficult aspect of your job? Staying away from negative people that can distract you. In this business to be successful you need to push yourself to the top everyday you wake up.
Where do you go to network and meet new clients? I am socialized and attending few organizations and networking groups.
What has been your greatest accomplishment? My greatest accomplishment would be all the goals I set to myself and got done in my lifetime. This is what creates success.
What was the last good movie you saw or book you read? The Sell by Fredrik Eklund
What is your favorite restaurant? Any healthy vegan restaurant.
Architecturally speaking, what is your favorite building in Miami? 1000 Museum by Zaha Hadid
What kind of car do you drive? Black Mercedes CLA250
Smartphone or paper? Smartphone – it's faster.
What is your favorite city after Miami? London. What great architecture, food and history.
In 10 words or less, what is your advice for someone new to the industry? Work hard and play harder !
What's your favorite real estate iPhone/Android app? HomeSnap
Who are your favorite people to follow on Twitter? Million Dollar Listings agents