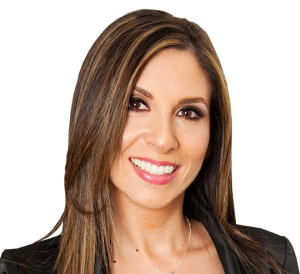 Name: Carol Cassis
Title: Broker Associate
Company: Brown Harris Stevens Miami / Continuum South Beach Office
Where did you grow up? I grew up in Santiago, the capital of Chile.
Growing up, what did you want to be? I always had the idea to work on TV or in some news media helping others and being the first to know.
What do you do to relax when you're stressed? Meditation is key, and Crossfit. I don't eat dairy or wheat so that helps my eating habits and keeps me healthy.
If you could have lunch with a well-known figure (living or not), who would it be and why? I would like to meet Frank Sinatra. I grew up with my father listening to his songs … such a unique voice with deep character. He lived his life the way he wanted. I do admire his approach to life.
Where is your favorite place to hang out? Of course the beach! I have reached the lifestyle I was planning to have. To watch the waves, to feel the breeze everyday from my balcony, to enjoy the ocean anytime I want … it is a lifestyle that not everybody can afford or reach.
What do you love most about the industry? The idea that there is no limit, not a ceiling to reach. Always you can do more and earn more because of your capabilities, efforts, network … I am my own boss.
How do you distinguish yourself from the crowd of agents? With my team #cassisburkecollection, we have opened a new door for our clients. We are the first team to sell a property via Bitcoin ONLY in the U.S.! We also were the first ones in 2014 to transfer Bitcoin to U.S. dollars to make a real estate transaction. This is history in the making.
What is the most difficult aspect of your job? To keep yourself away from negativity. There is a daily challenge to avoid the "noise" of those who chose this business as a distraction and not as a career.
Where do you go to network and meet new clients? I travel very often to meet my clients in their own environment and lifestyle. This is a great way to understand them deeply and help them better. It is most referral base.
What has been your greatest accomplishment? To open a new door in the real estate business with the acceptance of Bitcoin as a form of payment. To be the leaders on this other way of doing business. So today our clients can buy in cash, financing or crypto to get a property.
What was the last good movie you saw or book you read? "Mindset: The New Psychology of Success" by Carol Dweck.
What is your favorite restaurant? Le Bernardin in New York. Zuma in Miami.
Architecturally speaking, what is your favorite building in Miami? In the old construction, the Biltmore Hotel is my favorite. In the new construction and because of my passion for cars, Porsche Design Tower in Sunny Isles.
What kind of car do you drive? A Maserati Ghibli S 2017
Smartphone or paper? In today's world, you cannot live without a smartphone, so I have to stick with that for now.
What is your favorite city after Miami? London.
In 10 words or less, what is your advice for someone new to the industry? One hundred percent commitment to the business and patience.
What's your favorite real estate iPhone/Android app? Wunderlist.
Who are your favorite people to follow on Twitter? I am not an active Twitter user. I prefer Instagram.