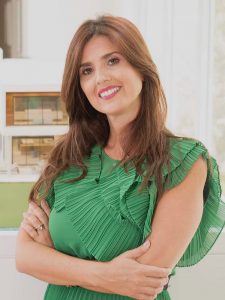 Name: Rosa Canao
Title: Sales Executive
Company: Terra Realty
What was your first job in the realty industry? My first job in the realty industry was 11 years ago in the development Ocean Reserve in Sunny Isles Beach.
Where did you grow up? I was born in Sydney, Australia, but I grew up between Portugal and Venezuela.
Growing up, what did you want to be? I wanted to travel around the world and learn about other cultures.
What do you do to relax when you're stressed? When I'm stressed I like to go to the beach.
If you could have lunch with a well-known figure (living or not), who would it be and why? I would love to sit down and have lunch with Lady Diana, for her inspiring leadership, simplicity, humility, decision and the reach she achieved.
Where is your favorite place to hang out? My home is the best place to hang out, or at the beach or in a boat with friends.
What do you love most about the industry? There are a lot of things I love of the industry: The people, the products, the houses, the projects, the feelings of the people when I'm helping them to buy their dreams houses. This makes my days in the industry a very fun and exciting adventure.
How do you distinguish yourself from the crowd of agents? The passion that I put in everything I do. Also, I bring a welcomed energy and a world of opportunities to each real estate adventure. I am an honest person, charismatic and reliable.
What is the most difficult aspect of your job? When the job depends on other professionals and they do not live up to their promises.
Where do you go to network and meet new clients? I use all the possible tools that the network today offers.
What has been your greatest accomplishment? All my achievements throughout my career in the industry.
What was the last good movie you saw or book you read? Wonder Woman.
What is your favorite restaurant? My favorite restaurant is Zuma.
Architecturally speaking, what is your favorite building in Miami? Grove at Grand Bay is my favorite building.
What kind of car do you drive? A BMW.
Smartphone or paper? Both of them.
What is your favorite city after Miami? My favorite city after Miami is Sydney, Australia.
In 10 words or less, what is your advice for someone new to the industry? Follow your goals, work hard and don't stop until you get it.
What's your favorite real estate iPhone/Android app? RPR.