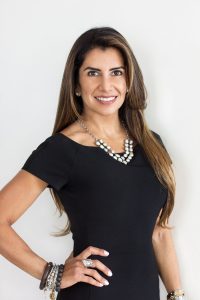 Name: Paola M. Garcia-Carrillo
Title: Real Estate Broker
Company: Residence Realty Inc.
What was your first job in the realty industry? My first job in the realty industry was Sales Manager for GC Homes.
Where did you grow up? I was born in Barranquilla, Colombia. When I was two, I moved to Miami.
Growing up, what did you want to be? Growing up, I wanted to be a Psychologist. I always have enjoyed mentoring and helping people out.
What do you do to relax when you're stressed? I like to exercise – go for a run or yoga. Deep breathing helps, or a glass of red wine can sometimes be my problem solver.
If you could have lunch with a well-known figure (living or not), who would it be and why? I would love to sit down and have lunch with Bono. He has not only been one of my favorite lead singers in a band but I would love to ask him a million questions about the things they tell you not to talk about – politics & religion.
Where is your favorite place to hang out? My favorite place to hang out is home. I also love the ocean – whether the beach or the boat.
What do you love most about the industry? I love many things about this industry. I love the people I meet, I love the product, the houses. The joy there is when a buyer finds their perfect home. Creating the marketing plan involved in selling a residence. I love watching my agents prosper after all the training and mentoring you have provided them. Every day the schedule is so different which makes it exciting & fun.
How do you distinguish yourself from the crowd of agents? I distinguish myself from the crowd in the fact that I will go the extra mile to exceed expectations. I have a lot of experience in marketing, sales, great people skills, and I like to think out of the box.
What is the most difficult aspect of your job? When the market is going against what you are trying to do
What has been your greatest accomplishment? My greatest accomplishment has been being a dedicated mom and wife while at the same time being a business owner.
What was the last good movie you saw or book you read? I just reread Dale Carnegie's How to Win Friends and Influence People. I first read this when I was 18 – such a great book!
What is your favorite restaurant? Zuma & Il Gabbiano
Architecturally speaking, what is your favorite building in Miami? Brickell City Centre has been my latest and greatest favorite.
What kind of car do you drive? Cadillac Escalade. I need those three rows of seating.
Smartphone or paper? I like my planner and to-do list on paper. I have a hectic schedule and that way, I can lay it out and plan ahead. I find pleasure in checking things I have to do off.
What is your favorite city after Miami? My favorite city after Miami would be Cape Town, South Africa
In 10 words or less, what is your advice for someone new to the industry? Have a plan, be persistent and consistent, never stop learning.
Who are your favorite people to follow on Twitter? Paulo Coelho. He motivates and inspires me.