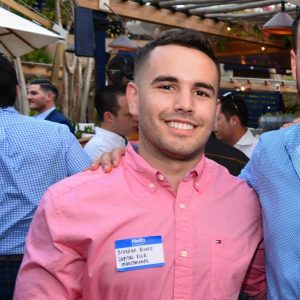 Name: Branden Rivero
Title: Realtor
Company: Marquee Real Estate Group
What was your first job in the realty industry? Realtor
Where did you grow up? Hialeah, FL
Growing up, what did you want to be? I wanted to serve my community by being in law enforcement.
What do you do to relax when you're stressed? Our brokerage has a softball team (defending champions by the way). Also, just relaxing and enjoying our beautiful city.
If you could have lunch with a well-known figure (living or not), who would it be and why? I would have lunch with Bill Gates or Warren Buffett because I would love to see what moves them and what pushes them. Also, their philanthropic work is something to admire and sets an example for us all.
Where is your favorite place to hang out? Downtown Miami
What do you love most about the industry? Love the challenges we have to overcome everyday from rough closings to overlooking even the smallest details
How do you distinguish yourself from the crowd of agents? Something that sets me apart is my experience and age. Not many agents have dealt with as many issues and have seen every side of the industry in such a short time.
What is the most difficult aspect of your job? Working weekends, but that doesn't mean we don't do it!
Where do you go to network and meet new clients? Networking events are always great and there are usually one or two going on daily. From developer events to investor events, there is always something going on in South Florida.
What has been your greatest accomplishment? I have not achieved my greatest accomplishment yet.
What was the last good movie you saw or book you read? The last good book I read was Relentless by Tim S. Grover.
What is your favorite restaurant? I do love to eat! Japanese food is my favorite, so right now I would say KYU.
Architecturally speaking, what is your favorite building in Miami? The Freedom Tower
What kind of car do you drive? BMW 335i
Smartphone or paper? Smartphone
What is your favorite city after Miami? Hialeah
In 10 words or less, what is your advice for someone new to the industry? Nothing great is given, it's earned.
What's your favorite real estate iPhone/Android app? GoMLS Miami