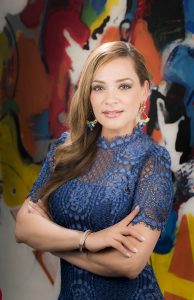 Name: Adriana Vargas Hernandez
Title: Senior Sales Associate
Company name: Prive Island Estates
What was your first job in the realty industry? Graham Companies at Miami Lakes on a Project called Gramercy Park at the age of 22.
Where did you grow up? Puerto Rico. I came to this country when I was 16 years old, graduated from High School with very basic English and not a cent, but with great dreams. I have been blessed that throughout my life God has put angels to help me reach the next goal, or open a door. There is no such thing as luck. We fight for our own opportunities every day. Sometimes, we don't realize that we are fighting today, for the opportunities that will come many years from now. Patience is virtue and I have it.
Growing up, what did you want to be? A lawyer
What do you do to relax when you're stressed? I play in my beautiful garden.
If you could have lunch with a well-known figure (living or not), who would it be and why? Mother Theresa. The world needs more souls with compassion, kindness, desire to build instead of destroying, desire to care instead of ignoring.
Where is your favorite place to hang out? My home. I travel for business extensively and I enjoy being home with my two boys when possible. I am a single mother.
What do you love most about the industry? My line is new Development Sales for the past 23 years. I love to see how our city has become the Wall Street of the south. I am very proud of everyone who had the vision to build the Miami of today and the one we are creating for tomorrow.
How do you distinguish yourself from the crowd of agents? Great Service is my priority on this business. I am passionate about every aspect of my job. On Development Sales, we need to service our clients, developers, brokers from the world, and the many real estate agents who reach out asking for assistance and guidance to grow. It is very rewarding to mentor, help & train those who will be the success stories of tommorrow. People don't care how much you know until they know how much you care.
What is the most difficult aspect of your job? Lack of time and stress are the worst. I would desire another 10 more hours a day to be able to do all that is required & rest more. Our business is fast, demanding, challenging depending on the market conditions and with a great deal of responsibility. On the other hand, there is nothing more rewarding that to know that you are working to build residences where new families will make their home, and new children will be born.
Where do you go to network and meet new clients? I travel the world
What has been your greatest accomplishment? The one that I have not had yet. Of course, I am greatful for having worked on many wonderful projects which contributed to our new skyline, and transformed the way we live, dine, work and have fun in Miami.
What was the last good movie you saw or book you read? Loved Beauty and the Beast so much that I saw it twice.
What is your favorite restaurant? Cipriani
Architecturally speaking, what is your favorite building in Miami? I believe that 1000 Museum by Zaha Hadid will be my favorite project architecturally speaking. On the other hand, Prive without a doubt is my favorite project due to the irreplaceable setting where you have 360 degrees of water views as no other project ever built.
What kind of car do you drive? Mercedes S550
Smartphone or paper? Smartphone and backed up constantly
What is your favorite city after Miami? Very difficult question. Each city has it's magic, it's charm, and special people. Impossible to answer…
In 10 words or less, what is your advice for someone new to the industry? To remember that real estate is all about people, not concrete.
What's your favorite real estate iPhone/Android app? Econdos
Who are your favorite people to follow on Twitter? Don't use Twitter often.