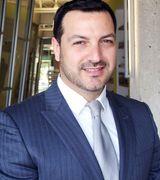 What was your first job in the realty industry? I was a residential agent at Beachfront Realty based out of the Beach office. Worked on pre-sales and existing.
Where did you grow up? In Guayaquil and Quito, Ecuador until the age of nine. Since then, exclusively in Miami.
Growing up, what did you want to be? An air fighter pilot in an F-16 Tomcat
What do you do to relax when you're stressed? Play indoor basketball pickup games
If you could have lunch with a well-known figure (living or not), who would it be and why? Albert Einstein
Where is your favorite place to hang out? Home
What do you love most about the industry? The ever-growing surprises
How do you distinguish yourself from the crowd of agents? I represent both commercial clients and residential. I also know a lot about construction design and organization.
What is the most difficult aspect of your job? Marketing myself
Where do you go to network and meet new clients? Industry events and general networking events at multi-chamber mixers.
What has been your greatest accomplishment? Working as a full-time Realtor since I resigned from my baking career in late 2004, especially the first crash years. Very difficult times.
What was the last good movie you saw or book you read? I don't watch a lot of movies or read a lot of books, but I do watch TV series and educational channels like American History and Viceland.
What is your favorite restaurant? Dr. Limon for their casual atmosphere and great food and service. Prices are a factor.
Architecturally speaking, what is your favorite building in Miami? 4 Seasons
What kind of car do you drive? BMW for life – I drive a 328i
Smartphone or paper? Both
What is your favorite city after Miami? LA
In 10 words or less, what is your advice for someone new to the industry? Focus on marketing yourself first and build up a resources list to help you get there.
What's your favorite real estate iPhone/Android app? DotLoop
Who are your favorite people to follow on Twitter? NASA
—
Do you want to be featured in our Agent Snapshot? Fill out our questionnaire, and you'll be featured too!