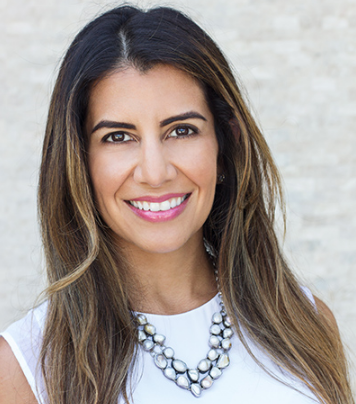 What was your first job in the realty industry? I was the sales director for Developer GC3 Development
Where did you grow up? Miami, but I was born in Barranquilla, Colombia.
Growing up, what did you want to be? So many things! I wanted to be a counselor, a singer (but my voice is terrible so that dream died early) and a fashion designer.
What do you do to relax when you're stressed? Exercise or sing out loud. I love running marathons, spinning and yoga!
If you could have lunch with a well-known figure (living or not), who would it be and why? That's a tough one. Princess Diana, because there are so many questions I would love to know the answers to. Also, Bono from U2 – I think he is an amazing man (besides my husband of course!)
Where is your favorite place to hang out? My home and the ocean
What do you love most about the industry? Many things! I love the design of homes and appreciate them. I enjoy meeting many different kinds of people and helping them find what they want and need. I love closing the deal and knowing everyone is happy!
How do you distinguish yourself from the crowd of agents? I believe I am well up to date with all the changes that are happening with our industry and being tech savvy with marketing and social media. With these smartphones so much has changed from when I first started 10 years ago. I am a Certified Home Luxury Specialist and a Certified International Property Specialist. This industry is definitely global!
What is the most difficult aspect of your job? Not finding what a client wants, or not being able to sell a home within the agreement time. It happens! But there is nothing like still being able to do it after all that.
Where do you go to network and meet new clients? Everywhere all the time! Not only in the common open houses and networking events, but picking up my kids in school, their extra-curricular activities, restaurants, salons, groceries. Everywhere. Just have your business cards ready and introduce yourself.
What has been your greatest accomplishment? Raising my kids to be hardworking, honest and selfless!
What was the last good movie you saw or book you read? "Blended" with Adam Sadler and Drew Barrymore. It was so funny!
What is your favorite restaurant? Zuma and Il Gabbiano
Architecturally speaking, what is your favorite building in Miami? Parking Garage on Lincoln Road
What kind of car do you drive? An Escalade, to fit everyone!
Smartphone or paper? Both
What is your favorite city after Miami? New York City
In 10 words or less, what is your advice for someone new to the industry? Have a role model to follow and learn from.
What's your favorite real estate iPhone/Android app? Matrix, of course! Dropbox and TurboScan are great too!
Who are your favorite people to follow on Twitter? Paulo Coelho, Tony Robbins
—
Do you want to be featured in our Agent Snapshot? Fill out our questionnaire, and you'll be featured too!