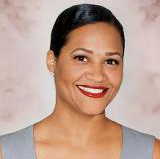 What was your first job in the realty industry? My first job was working with rentals.
What do you do to relax when you're stressed? I like to go shopping, get a mani-pedi or read a magazine with a cup of coffee.
Where did you grow up? I grew up in Newark, N.J.
Growing up, what did you want to be? I wanted to be a super model. Then I went to Rutgers and studied criminal justice. I thought I wanted to an FBI Agent. I wanted folks to call me agent Velez.
If you could have lunch with a well-known figure (living or not), who would it be? I think I would like to have lunch with First Lady Michele Obama. She is an amazing, strong woman and mom. I would like to see how she juggles her family and the politics of the White House (especially with her husband's schedule). She is the most fit first lady ever – maybe she can give me some tips how she makes time for exercising. I love her sense of style. It's all her own.
Where is your favorite place to hang out? I love to be any where with my children – park, museum, beach, etc. Our favorite hang out is the PAMM museum. We love the art work and park combination.
What do you love most about the industry? I love this industry because you can be with a client showing a distressed home one minute and in the next hour you're showing a $14 million dollar home. It is amazing!
How do you distinguish yourself from the crowd of agents? I am a small boutique shop and give my undivided attention to my clients and my agents. I make myself available via text, email and cell. I train my agents to provide excellent customer service and pick up their phone.
What is the most difficult aspect of your job? The most difficult aspect of my job is when you find a client, you qualify them, you find the home and then there are variables outside of your control. The client's boss, the underwriter's guidelines, the condo hoa are all factors you have no clue what to expect.
Where do you go to network and meet new clients? I talk to people everywhere I go – at the gas station, coffee shop. I go to at least three networking events a month. I go to every birthday party I'm invited too.
What has been your greatest accomplishment? My greatest accomplishment was getting my brokers license and opening my company, RAD Properties. My company is growing and I am excited.
What was the last good movie you saw or book you read? I just saw The Artist, which was a  wonderful silent film. It was great.
What is your favorite restaurant? I like Carmine's in Kendall. I love Italian food.
Architecturally speaking, what is your favorite building in Miami? I like the Viceroy building, with its huge Asian face columns.
What kind of car do you drive? I drive a Hyundai Sonata, looks as sleek as a Mercedes.
Smartphone or paper? A smartphone, of course.
What is your favorite city after Miami? NewYork City, then Paris and next Rome.
In 10 words or less, what is your advice for someone new to the industry? Be professional and courteous to your fellow Realtors.
What's your favorite real estate iPhone/Android app? Camscanner…Saves you every time.
Do you want to be featured in our Agent Snapshot? Fill out our questionnaire, and you'll be featured too!