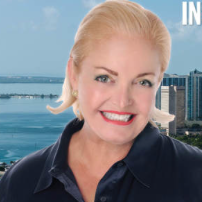 What was your first job in the realty industry? I started investing in Miami (specifically south of Fifth Street) in the mid-90s and managed several properties over the years for my own family portfolio of investments. Eventually my passion for real estate was not containable, so aside from working with friends and family I went to work for Continuum South Beach Realty and stayed there until they sold out of their developer units and closed. I have been with Douglas Elliman ever since and hold licenses in Florida and New York.
What do you do to relax when you're stressed? It depends how stressed I am. If I am mildly stressed, I zone out in a movie because it takes my mind off of things. But when I am over worked and extremely stressed, I get a two-hour massage. I usually go to the movies once a month and have two hour massages every other week!
Where did you grow up? I was born in Brooklyn ,N.Y. – raised in the burbs but definitely grew up in NYC.
Growing up, what did you want to be? When I was very young, I wanted to be a flight attendant so I could see the world. I love to travel. As I approached college age, I became more ambitious so I pursued business instead.
If you could have lunch with a well-known figure (living or not), who would it be and why? Brain L. Weiss, author of Many Lives, Many Masters, because one life is not enough. I would like to talk to him about his research in future life progession and survival of the human soul. His book changed my life after losing my mother at a very young age.
Where is your favorite place to hang out? The place I feel most at home is at Smith & Wollensky. It's right on the water, and practically in my backyard. I enjoy the cruise ships and the sunsets, but most of all I have my favorite bartender Joe, who always makes me laugh a lot.
What do you love most about the industry? I love putting complex deals together. It is all pieces to a puzzle and the challenge is to put everything in its right place to complete the picture. I am fortunate that many clients I have become close friend over the years, which is an added bonus!
How do you distinguish yourself from the crowd of agents? My own investing, especially in New York and Miami along with my business background as a former CEO of a financial services corporation, enables me to share a 360 degree view with my clients on all aspects of navigating real estate. Many of my clients are professionals and they appreciate that I can talk their language and see the many sides of what goes into selling or buying property. I have a 24/7 work ethic; I am always available. My clients know they can call me at midnight and I will answer the phone.
What is the most difficult aspect of your job? For me it is about boundaries. I need to find the quickest and most respectful way to prove my value and set myself apart while staying engaged and not alienating anyone. There are lots of what I call real estate "tourists" and" tire kickers," who have no loyalty or respect for a Realtor's time and energy. Training clients to respect our work and value us can be challenging if we do not set it up correctly from the start.
Where do you go to network and meet new clients? I am most fortunate as I receive many referrals from existing clients, former business relationships and friends.
I am a back-door networker. I meet many people while eating at local restaurants. I never talk about real estate directly or tell them I am a Realtor. After seeing the same people at the same places after many months, I will divulge what I do – and by then I already have some sort of relationship and it flows better. I really do not ever think about the money; I focus on what I think is good real estate business and for me the money always follows.
What has been your greatest accomplishment? I would be foolish if I didn't say my greatest accomplishment is raising three amazing sons who have grown up to be self-sufficient, successful adults – both in their personal lives and business lives. That being said, my next greatest accomplishment is moving from NYC to Miami after my husband lost his entire company on 9/11 and started over literally from the ground up. I guess it's corny to admit, but my first year in real estate I was voted "Rookie of The Year" at Douglas Elliman, which I believe spoke to my intense desire to overcome the challenges we faced after 9/11.
What was the last good movie you saw or book you read? I really like to watch the movie Eat Love Pray with Julia Roberts at least once a year! It speaks to pushing outside one's comfort zone in order to achieve true contentment.
What is your favorite restaurant? My favorite restaurant is Il Gabbiano located downtown at One Miami. The owner and chef is from the original Il Mulino from downtown NYC. The dad still cooks the pasta to order and it doesn't hurt that the restaurant is directly on Biscayne Bay and the Brickell River.
Architecturally speaking, what is your favorite building in Miami? I think it will be 1000 Museum by Zaha Hadid; although, the Miami Skyline is becoming one of the most interesting skylines. Architecturally speaking, there is so much to admire and enjoy.
What kind of car do you drive? Living south of Fifth Street, I mostly walk or uber. And although I have a Jaguar in the garage, I rarely drive it. In fact, I often rent a car from SIXT on 5th Street, because one day I need a suburban to take five to seven investors around, and the next I may need a convertible or sports car, whichever I feel my clients will enjoy most.
Smartphone or paper? Ninety-eight percent Smartphone. Two percent paper. I like the ease of collaboration across devices on a Smartphone.
What is your favorite city after Miami? HANDS DOWN New York City.
In 10 words or less, what is your advice for someone new to the industry? Respond quickly. Spend the time. Be professional. Keep learning. Collaborate with others. Don't give up.
What's your favorite real estate iPhone/Android app? Matrix – I can work on the go along with calculator and translator.
Who are your favorite people to follow on Twitter? @MarketWatch, and @business (to keep up with the financial world), @miamihighdrone (because the guy has awesome photos of Miami) and @DouglasElliman (because I support where I work).
Do you want to be featured in our Agent Snapshot? Fill out our questionnaire, and you'll be featured too!