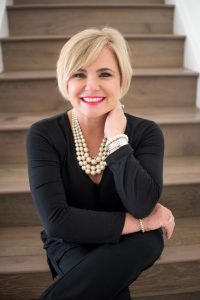 Name: Dondi Hopkins
Job Title: Team Leader, The Hopkins Team at Coldwell Banker Real Estate
Company: The Hopkins Team
What was your first job in the realty industry? My first job was working as my mother's assistant and now she is my business partner!
Where did you grow up? I grew up in Plantation, Florida
Growing up, what did you want to be? Growing up, I wanted to be a TV anchor!
What do you do to relax when you're stressed? I love to garden.
If you could have lunch with a well-known figure (living or not), who would it be and why? Oprah, I love that woman and she stands for a lot of positivity. A true role model.
Where is your favorite place to hang out? I enjoy hanging on my patio with my dear friends.
What do you love most about the industry? I love working with people, making people happy and finding them their forever dream home.
How do you distinguish yourself from the crowd of agents? In today's real estate climate, it is important to distinguish yourself from other agents throughout South Florida. At The Hopkins Team, we focus on our community involvement including providing youth with scholarship opportunities and our family-focused approach to helping you find your forever home.
What is the most difficult aspect of your job? Dealing with inspections is my least favorite and most difficult.
Where do you go to network and meet new clients? WIC – Women in Charge, Broward Schools, Lago Mar Country Club, and many more!
What has been your greatest accomplishment? My greatest accomplishment has been forming a fabulous team – The Hopkins Team! It has been a true reward keeping a positive atmosphere in our office.
What was the last good movie you saw or book you read? I just read the book "The Present". A must read!
What is your favorite restaurant? My favorite restaurant is Timpano in Fort Lauderdale.
Architecturally speaking, what is your favorite building in Miami? My favorite building in Miami is The Delano. The art is unreal.
What kind of car do you drive? I drive a Jeep!
Smartphone or paper? Smartphone, I can't live without it. Who's with me?
What is your favorite city after Miami? Blue Ridge, Georgia, hands down. Breathtaking!
In 10 words or less, what is your advice for someone new to the industry? Work hard, network like crazy and don't be afraid to shadow a top agent.
What's your favorite real estate iPhone/Android app? Maps – Always gets me anywhere I need to go.
Who are your favorite people to follow on Twitter? All of the top agents. The best of the best! To name a few… Duff Rubin, Jade Mills and Christophe Choo.
---
Want to be featured in our Agent Snapshot? Click here and complete this survey. Agent Snapshots are published on our website and shared in our newsletter and social media feeds.