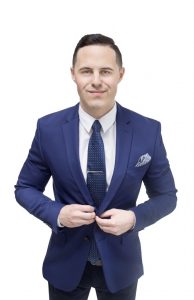 Name: Antonio Rossitto
Job Title: Luxury Real Estate Associate
Company: Ancona Real Estate on Miami Beach
What was your first job in the realty industry? Working with Ancona Real Estate was my first and current job in the industry.
Where did you grow up? I was born in Hartford, CT and then moved to Florida when I was a teenager.
Growing up, what did you want to be? I had thoughts about being in real estate, but started in hospitality first.
What do you do to relax when you're stressed? I love to throw my headphones in and hit the gym. Clears my mind and make me feel great.
If you could have lunch with a well-known figure (living or not), who would it be and why? Frank Sinatra! I'm an old soul and always loved that era. Hanging out with Sinatra would be amazing.
Where is your favorite place to hang out? I work and live in Brickell. Just being in the city, walking around, and taking in vibes is always a good time.
What do you love most about the industry? This industry is not only rewarding, but fun! Having the chance to show beautiful properties and meeting new people never gets old. In Miami real estate, the possibilities are endless.
How do you distinguish yourself from the crowd of agents? I believe that my experience managing in high end hospitality companies definitely sets me apart. Giving upscale service to your client and being genuinely hospitable to your clients goes a long way.
What is the most difficult aspect of your job? I found that the most difficult aspect is other realtors getting back to you in a timely manner. It can be frustrating, but nothing rewarding comes easy.
Where do you go to network and meet new clients? Networking events throughout Brickell.
What has been your greatest accomplishment? Acquired 5 listings at the same time in a brand new construction located in Brickell only 2 months into having my license.
What was the last good movie you saw or book you read? Casino with Robert Deniro is one of my favorite movies. It's an older movie, but just watched it again two days ago.
What is your favorite restaurant? Hillstone is always a good choice.
Architecturally speaking, what is your favorite building in Miami? The Biltmore Hotel in Coral Gables has a historic Spanish look to it that I've always loved.
What kind of car do you drive? Acura ILX
Smartphone or paper? Smartphone all the way! I need it to live and make deals 🙂
What is your favorite city after Miami? I used to live and work in New York City. It's an amazing area with incredible food and restaurants. If not Miami I would move right back over to NYC.
In 10 words or less, what is your advice for someone new to the industry? Never stop working! Be persistent and genuine always.
What's your favorite real estate iPhone/Android app? The MLS app is the best! I can send listings out in 30 seconds.
Who are your favorite people to follow on Twitter? You can find me on Instagram.
---
Want to be featured in our Agent Snapshot? Click here and complete this survey. Agent Snapshots are published on our website and shared in our newsletter and social media feeds.