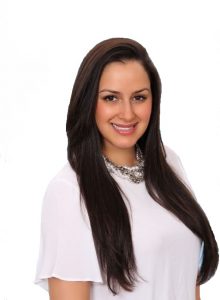 Name: Gigi Giusti.
Job Title: Sales executive.
Company: Douglas Elliman.
What was your first job in the realty industry? I was a weekend assistant at the real estate office where my mom worked as a top producer doing pre-construction project sales. I remember eavesdropping on every one of her conversations and presentations and absorbing everything like a sponge. It was the best learning lesson of my career!
Where did you grow up? I grew up about 30 minutes west of Fort Lauderdale in the city of Coral Springs and graduated from the University of Florida.
Growing up, what did you want to be? I wanted to be an executive at a record label. I have a huge passion for music and the creation of music amongst talented individuals, so I wanted to get involved in artist development.
What do you do to relax when you're stressed? I usually go to the gym or on long bike rides, it really relaxes me and makes me feel really good. I have recently started doing meditation as well, which I find to be a key tool to shutting off my thoughts and regrouping.
If you could have lunch with a well-known figure (living or not), who would it be and why? I would love to sit down with Barbara Corcoran and pick her brain. She is someone who I am very inspired by. I would love to hear her story and take in all of her advice on how to climb higher in my career and reach the goals I have set for myself.
Where is your favorite place to hang out? I love the beach. I am also a homebody, so I really enjoy lounging around at my house or entertaining my guests through dinner parties at my house.
What do you love most about the industry? I love the feeling of being part of a sale and seeing the customers HAPPY. Buying or selling a home can be quite stressful, so assisting the customer throughout this process is the most rewarding when they are excited and happy with their sale or purchase.
How do you distinguish yourself from the crowd of agents? I am always smiling and working hard! I am constantly hustling, networking, making new contacts, thinking of new ways to create more business. I never focus on what other people are or aren't doing. I focus on my own dedication and hard work.
What is the most difficult aspect of your job? I think the hardest part of my job would be working with agents who never answer their phones when you are trying to show their listing.
Where do you go to network and meet new clients? I think everywhere you go, there is an opportunity to network and meet someone who can become a client.
What has been your greatest accomplishment? The greatest accomplishment of my entire life has been the birth of my incredible daughter.
What was the last good movie you saw or book you read? There are so many, it is hard to name one, but I love documentaries or anything based on a true story. I also love movies that make you think and then surprise you with a crazy twist at the end. I read a ton of books, right now I am reading a book on day trading and investments.
What is your favorite restaurant? Being that I am Peruvian, my favorite restaurant is Cvi.Che 105 in downtown Miami.
Architecturally speaking, what is your favorite building in Miami? I really love the Porsche Design Tower and Muse in Miami. I also love the architecture of the pool at One Thousand Museum.
What kind of car do you drive? A Lexus SUV.
Smartphone or paper? I really don't like clutter so paperless unless I have no choice.
What is your favorite city after Miami? My absolute favorite city is New York City. It is my home away from home, and I am usually there every other weekend or at least once a month. Internationally, my favorite place is Peru. Between the food, the people and the culture, it is unbeatable.
In 10 words or less, what is your advice for someone new to the industry? Don't pay attention to negativity and focus on working hard. Results will follow.
What's your favorite real estate iPhone/Android app? I have all of them, but it is very nice to be able to access MLS from my phone now.
Who are your favorite people to follow on Twitter? I don't have Twitter but when I did, I followed any accounts that inspired me.