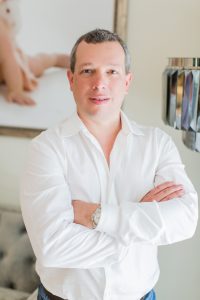 Name: Frank Costa
Title: Real estate agent and certified appraiser.
Company: YES Real Estate Services
What was your first job in the realty industry? Registered Trainee Appraiser.
Where did you grow up? Miami Springs.
Growing up, what did you want to be? Architect.
What do you do to relax when you're stressed? Swimming. I enjoy walking as well to relieve stress.
If you could have lunch with a well-known figure (living or not), who would it be and why? Walt Disney. Should I say more? The man was a genius and visionary.
Where is your favorite place to hang out? The beach.
What do you love most about the industry? Having a passion for architecture, real estate is a great gateway to creativity in this ever-changing market.
How do you distinguish yourself from the crowd of agents? My diversity of knowledge in the industry, which merges with my strong architecture and construction background, along with being a Certified Residential Appraiser for over a decade.
What is the most difficult aspect of your job? Managing time, budgets, clients work schedule, etc.
Where do you go to network and meet new clients? Social gatherings, usually. However, I believe anywhere you can strike a conversation would be a good place to meet a potential new client.
What has been your greatest accomplishment? Purchasing an 8-unit apartment building in Midtown and turning it over in one year for 65+ percent profit.
What was the last good movie you saw or book you read? "Power House Principles" by Jorge Perez.
What is your favorite restaurant? Prime 112.
Architecturally speaking, what is your favorite building in Miami? There has been a great uprising of world-renowned architects being commissioned in Miami this past decade. One that sets the bar for me is Zaha Hadid's 1000 Ten Museum; this one is a game-changer!
What kind of car do you drive? Mercedes & Range Rover.
Smartphone or paper? Smartphone.
What is your favorite city after Miami? New York.
In 10 words or less, what is your advice for someone new to the industry? Stick to it with passion. Don't lose faith.
What's your favorite real estate iPhone/Android app? My very own, through the company.
Who are your favorite people to follow on Twitter? I don't have a Twitter account.