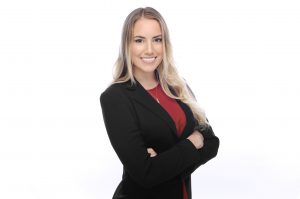 Name: Christina Lopez
Title: Realtor Associate
Company: Douglas Elliman
What was your first job in the realty industry? My first job is with my current company, Douglas Elliman. I started in September 2016 and had no prior experience. Luckily, I joined a company that provided many informative classes that taught me what I needed to know in a short amount of time.
Where did you grow up? I was born and raised in Miami and graduated from the University of Miami. I've lived here my entire life and absolutely love it!
Growing up, what did you want to be? Growing up, I always had a huge passion for real estate. I was exposed to it at a young age just through watching my parents buy and sell properties. It was something that really interested me. Throughout the years, I would always love to see what was on the market and what was selling in the different areas of Miami.
What do you do to relax when you're stressed? This is one of my biggest accomplishments! I am able to de-stress when ever I feel that I need to. Sometimes, I simply step outside and take my dog for a walk. I have also found that yoga and mindful breathing really help to de-stress. I work out on a daily basis and have found that this has really helped to keep my overall stress level at bay.
If you could have lunch with a well-known figure (living or not), who would it be and why? Barbara Corcoran. I know that she started in real estate around the same age that I began. I would love to hear her personal story of how she did it and any tips or secrets she has that really helped boost her career and keep her moving forward in the real estate industry. I have read her bio, however, hearing it from someone personally is very different.
Where is your favorite place to hang out? My favorite place to hang out is Greenstreet Cafe in Coconut Grove. I love the vibe of Coconut Grove and how dog friendly the restaurant is. It has a ton of charm, which I am a huge fan of!
What do you love most about the industry? I love the way it changes on a day to day basis. Not one day is the same as the last. Today, I am heading to meet an inspector and tomorrow I am showing a client homes. There is something new to be learned every day and I love that!
How do you distinguish yourself from the crowd of agents? I am extremely detail oriented and I always follow through with what I say I am going to do. I don't push things aside, I tackle the problem from the start so that it gets figured out sooner rather than later. That is a huge differentiation between me and the crowd. I love what I do, so it really isn't work for me. I always finish what I set out to begin.
What is the most difficult aspect of your job? Time management. In the real estate industry, you have to be extremely disciplined. It is very important that you set a schedule each and every day and have a list of tasks you want to accomplish.
Where do you go to network and meet new clients? Miami is great for meeting new clients. It is an international city with many people visiting from all over the world who want to own a piece of real estate here. Going out to dinner is a networking event because you never know who you will be next to who is interested in buying or selling property in Miami. Anytime I leave my house, I consider it networking because you just never know where you will meet someone who is in need of a realtor. Also, I attend art shows, architectural awards ceremonies, and various events throughout my company. Basically, I try to attend any event that I am invited to because it is always better to know more people in the real estate industry and get your name out there.
What has been your greatest accomplishment? My greatest accomplishment thus far has been representing both sides of my first listing! The listing is set to close in June and I just listed a second home in Pinecrest.
What was the last good movie you saw or book you read? Coco before Chanel
What is your favorite restaurant? Hillstone, the food is always amazing and consistently delicious.
Architecturally speaking, what is your favorite building in Miami? Pérez Art Museum
What kind of car do you drive? 2014 Audi Q5
Smartphone or paper? Both, I feel like I am able to get things done very quickly on my smartphone when I'm on the go. However, sometimes I write things down on paper and transfer them to my phone at a later time.
What is your favorite city after Miami? Chicago! If I could stand the weather, I would move there. I love all of the different neighborhoods of Chicago and seeing all of the different types of architecture. It is a beautiful city and the food is amazing!
In 10 words or less, what is your advice for someone new to the industry? Keep moving forward and stay positive!
What's your favorite real estate iPhone/Android app? Realtor.com App, from my experience it is the most accurate and it is updated more frequently than the other real estate apps.
Who are your favorite people to follow on Twitter? Fredrik Eklund, Barbara Corcoran and Donald Trump