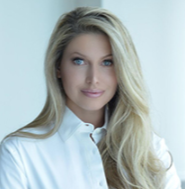 What was your first job in the realty industry? Carson Realty Group
Where did you grow up? Baltimore, Maryland. I was born in Russia.
What do you do to relax when you're stressed? Leave my phone in the other room.
Growing up, what did you want to be? An attorney
If you could have lunch with a well-known figure (living or not), who would it be and why? Marilyn Monroe. She is an intriguing figure in American history.
Where is your favorite place to hang out? South of Fifth. I work, live and play there.
What do you love most about the industry? Finding dream homes for end users and great deals for investors. I love the action of putting a deal together. From a personal perspective, the flexibility in my schedule is a bonus.
How do you distinguish yourself from the crowd of agents? My follow up is outstanding. I only work the markets I truly understand so buyers can count on access to off-market opportunities. I believe in the golden rule – I treat others the way I want to be treated in business – fairly, honestly and not applying too much pressure.
What is the most difficult aspect of your job? The natural ebbs and flows of our marketplace. When a market shifts from a seller's market to a buyer's market, there is a lot of hesitancy and transaction volume drops dramatically. Being confident and patient is a must to stay resilient in a shifting market.
Where do you go to network and meet new clients? I stay in my neighborhood – South of Fifth. I run into clients at the gym, at the coffee place, the lunch spot, the happy hour.
What has been your greatest accomplishment? Professionally – building The DS Team. My partner, Sladja, and I co-founded it over a decade ago and have seen it grow and become a recognizable brand.
What was the last good movie you saw or book you read? Movie: The Accountant. Book: "The Rocks."
What is your favorite restaurant? Caviar Russe
Architecturally speaking, what is your favorite building in Miami? Eighty Seven Park by Renzo Piano (under construction)
What kind of car do you drive? As of 2016, I no longer have a car. It used to be a Range Rover. Now I UBER every day!
Smartphone or paper? Both.
What is your favorite city after Miami? Paris
In 10 words or less, what is your advice for someone new to the industry? Prospect. Network. Prioritize. Be available. Work harder than everyone else.
What's your favorite real estate iPhone/Android app? Redfin
Who are your favorite people to follow on Twitter? I don't tweet. I Insta. @theDSteam @goldendina