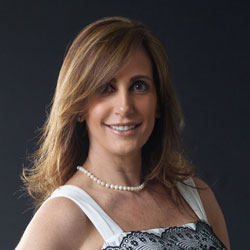 What was your first job in the realty industry? I've been doing pre-construction and pre-development. My first project was Il Villagio in South Beach before it was built. The only competition we had in 1995 was Portofino Tower. Things have changed a little since then in South Beach.
Where did you grow up? I was born and raised in Brentwood, California. My father built the first deeded townhomes in the state of California, Rossmore Townhomes.
Growing up, what did you want to be? I grew up in LA, so I wanted to be an actress or a singer because that's what I was exposed to. So I became a sales trainer, which involved captivating 50 people for eight hours a day, five days a week. I opened the south Florida market as the regional sales trainer for Jenny Craig, which is what brought me to South Florida.
What do you do to relax when you're stressed? I've played classical piano for 12 years and I sing. I was actually in the Florida philharmonic choir. So to de-stress, I enjoy singing and playing the piano.
If you could have lunch with a well-known figure (living or not), who would it be and why? Wayne Dyer. The power of positivity is so strong, and staying optimistic and influencing those around you to hold on to the great and simple things we so easily miss in life is what he taught.
Where is your favorite place to hang out? Anywhere with friends. I love being close to the water, so usually a restaurant on the water.
What do you love most about the industry? Where do I begin? I've loved being a pioneer in areas that people didn't see the vision or opportunity until after those areas changed. I sold Ocean One as my second project when Sunny Isles Beach was unincorporated Dade. Now look at both Sunny Isles and South Beach. Being part of the fearless visionaries who to go into unestablished markets is what I've loved.
How do you distinguish yourself from the crowd of agents? What I do is very specialized. I liken it to being a doctor. A cardiologist can't necessarily perform the services of a plastic surgeon! Real estate development is very specific. I work in partnership with developers at the inception phase to allocate spaces within residences, creating our unique selling opportunity, giving input on the collateral materials. Pricing out buildings and bring conservative, I will under-promise and over-deliver. Pompano Beach and Sabbia Beach are great examples of that.
What is the most difficult aspect of your job? Creating a vision when you are selling air to people who haven't seen the evolution of transitional areas. Training teams to share that story so they are able to translate that vision to the clients.
Where do you go to network and meet new clients? I have sat on many panels with developers and try to attend ULI events. I'm also a member of the master broker forum where I have had general Realtors offer to introduce me to their clients.
What has been your greatest accomplishment? Record-breaking pricing in many transitional areas, which paved the way for other developments to launch and move forward. I've sold projects that many doubted would command the pricing in today's market they are seeing.
What was the last good movie you saw or book you read? "The Blind Side." I think it is an inspirational movie that proves one can succeed against all odds provided they have the drive and ambition.
What is your favorite restaurant? Prime 112. I always love a great steak, and the bacon they have to snack on at the bar is to die for.
Architecturally speaking, what is your favorite building in Boston? There are so many architects I've worked with, from Kobi Karp to Adache Group. With that being said, the late Zaha Hadid 1000 museum is probably one of the most incredible ones in Miami.
What kind of car do you drive? A Mercedes
Smartphone or paper? Paper
What is your favorite city after Miami? Home: Los Angeles
In 10 words or less, what is your advice for someone new to the industry? Have a clear vision of your goals. Don't take no for an answer.
What's your favorite real estate iPhone/Android app? Google search. It's the only thing I use to look at pre-construction competitors.
Who are your favorite people to follow on Twitter? I'm technologically challenged and just figured out Instagram. I also think there is a disconnect between people with all the various social media outlets, so I try to limit my knowledge of the latest and greatest. I don't ever text a potential buyer. Do it the old fashioned way and pick up the phone and call them!
—
Do you want to be featured in our Agent Snapshot? Fill out our questionnaire, and you'll be featured too!