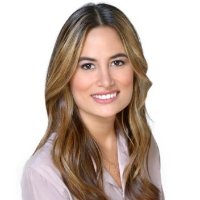 What was your first job in the realty industry? I was a research associate for Douglas Elliman Development Marketing
Where did you grow up? Key Biscayne, FL and Cartagena, Colombia
What do you do to relax when you're stressed? Listen to music – it's the best therapy.
Growing up, what did you want to be? I wanted to be a fashion designer or a famous artist. Art has always been an interest of mine.
If you could have lunch with a well-known figure (living or not), who would it be, and why? Richard Branson – because he is passionate about his beliefs and ideas. He is relentless and is not afraid of any challenge.
Where is your favorite place to hang out? Wynwood
What do you love most about the industry? I love the diversity and entrepreneurial nature of the business – I am dually licensed in New York and Florida, and for this reason I get to see firsthand the different opportunities in such different markets that enable me to grow, learn, and add value to both my clients and my team.
How do you distinguish yourself from the crowd of agents? Be yourself! I think it's important to recognize your strengths and use them to your advantage. For example, I employ my new construction knowledge and data skill set to make the data work for my clients. When hiring a real estate professional, trust is the determining factor – so clients feel safe working with someone who is data savvy. Another factor in distinguishing myself from the crowd of agents is being a member of the Noble Black team. Not only is our team consistently ranked among the top teams nationwide but we also complement and support each other. When you are hiring any of us, you get the expertise of our entire team.
What is the most difficult aspect of your job? The most difficult aspect of this job is not getting emotionally involved. Sometimes when I meet a prospect I can envision the process start to finish – and sometimes it doesn't always work out. It is important to try to stay objective.
Where do you go to network and meet new clients? Believe that everywhere you go you have to be networking and being proactive – whether it is at SoulCycle, the grocery store, or even at the doctor's office. I am also actively involved with other Babson alumni and entrepreneurs and I am becoming a part of New York City's LeTip Group.
What has been your greatest accomplishment? Career wise – my greatest accomplishment was selling two luxury resale units totaling over $7.5M of real estate while having a full-time corporate position. Naturally, that led me to pursue sales full time and join the Noble Black Team.
What was the last good movie you saw or book you read? "Think Like a Freak" – from the authors of "Freakonomics"
What is your favorite restaurant? Cipriani
Architecturally speaking, what is your favorite building in Miami? I love what is planned for Rafael Vinoly's, One River Point – the concept is simple and symmetrical, similar to his other building, 432 Park Avenue in New York. However, I like the design of the dramatic glass Skybridge connecting both towers and that every unit has beautiful views. I believe this building will transform the Miami skyline.
What kind of car do you drive? A BMW X3
Smartphone or paper? I keep my calendar and alerts on my smartphone – but I like writing my "to-do's" on paper
What is your favorite city after Miami? NYC
In 10 words or less, what is your advice for someone new to the industry? Network with as many people as you can.
What's your favorite real estate iPhone/Android app? The Real Deal app
Who are your favorite people to follow on Twitter? I follow successful entrepreneurs and fashion icons. The people I follow include Tom Ferry, Richard Branson, Mark Cuban and Victoria Beckham