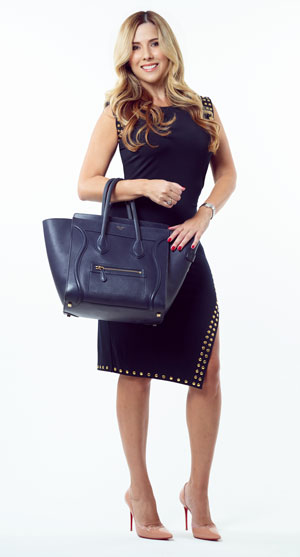 Number of years in real estate: One
Describe your look: I describe my look as feminine and chic.
What do you consider a "fashion don't?" Designer logo-palooza from head to toe, as well as wrinkled and/or ill-fitting clothing.
What is your favorite piece of clothing and why? I love my dresses that perform the double duty of day to night. Ralph Lauren, Diane von Furstenberg and Laundry by Shelli Segal are my favorite. They are classically feminine and they flatter every body type.
What do you consider a must-have accessory? A timeless handbag and nude shoes. They go with almost any color and elongate the legs.
What is a fashion crime you have committed in the past? I was a teenage girl in the '90s. Need I say more?
Where are your favorite places to shop? I am a self-proclaimed bargain shopper, so I love retailers like TJ MAXX, Marshalls, Nordstrom Rack, Saks Fifth Avenue OFF 5TH and Neiman Marcus Last Call. I also love shopping at local boutiques.
What, besides your wardrobe, completes your look? A big smile, confidence and a positive attitude!
What is in your bag/briefcase? Wallet, iPhone, business cards, iPad, breath saver, Zyrtec and sunglasses.
My closet is full of… Dresses and shoes!
What is your style advice for other people in the industry? Appropriate dress shows that you respect your business and your clients. If you look successful and confident, then others will have more confidence in you as well. Plus, you never know when you're going to stumble upon someone who can help you with your career, so I do my best to dress classy even if I'm running errands.
Michael Kors dress, Celine bag, Christian Louboutin – Iriza Patent Leather Half d'Orsay pumps
Do you have a signature style? To be profiled in this feature, send a note to [email protected]