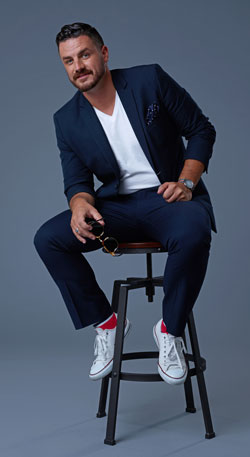 Number of years in real estate: Two
Describe your look: My look is chic, comfortable and lived-in. I like mixing different elements of professionalism and fun. This is Miami, it's hot; I save the suit and tie for when I'm up north.
What do you consider a "fashion don't?" Being uncomfortable. The biggest don't for me is to wear something that is uncomfortable and uptight looking. My clients are real people regardless of their background, financial status or profession. I don't want to feel uncomfortable around them or try too hard to impress them.
What is your favorite piece of clothing and why? Shoes. I think that shoes can tie an outfit together, help dress the look up, or in my case, help dress the look down.
What do you consider a must-have accessory? A watch. I think watches complete an outfit and show that I am conscious of my client's time.
What is a fashion crime you have committed in the past? I've committed them all. I've learned from my mistakes but always tend to come back to them. I used to color block before color blocking was a thing, and I tend to mix too many patterns at times.
Where are your favorite places to shop? I love boutique shops. I think that you can find some really interesting options that aren't as commercial as the big retailers. With that said, I also love the convenience of walking into a Bloomingdales and having everything I need in one store. There is also no shame for me to say Gap has the best fitted cotton v-necks.
What, besides your wardrobe, completes your look? My copper Elyx pin. The pineapple is the international symbol of hospitality, and that's my homage to my passion. Even if it doesn't match my outfit, you can find it on me somewhere at all times.
What is in your bag/brief case? My Apple Macbook and its charger, an Apple iPhone charger, Rayban club master sunglass case, a few pens, business cards and my passport; I'm always ready to get on a plane, and my devices always have power.
My closet is full of…Colorful button down shirts, fitted v-neck t-shirts, suits and Happy Socks.
What is your style advice for other people in the industry? Don't look uptight – Miami is fun, colorful and vibrant. Express that comfortable look. At the end of the day, it's about service, so take care of your clients the best you can and then your outfit is just that: an outfit.
Watch is a Timex Weekender, shoes are Converse, t-shirt is from the Gap, suit is H&M, socks are Happy Socks, ring is from a boutique in Mexico City and belt is Lacoste.
Do you have a signature style? To be profiled in this feature, send a note to [email protected]