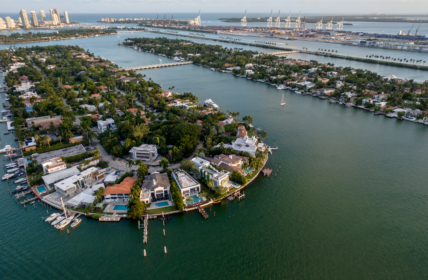 The chairman of Limestone Asset Management, Ibrahim Al-Rashid, has expanded his primary residence on Hibiscus Island by purchasing 184 S. Hibiscus Drive in Miami Beach for $6 million.
He also purchased 190 S. Hibiscus Dr., in September 2020 for $6.29 million. Al-Rashid plans to demolish the home at 184 S. Hibiscus to add to the existing architecture and profile of his current property, and to demolish the home at 190 S. Hibiscus Dr. to add more green space to his current property. The purchases greatly expand the total waterfront on his property to 300 continuous feet. All three properties combined expand his residence to a rare 1.25 acres.
The current property is located on the Rod and Reel Club of Miami Beach. Hibiscus Island is considered to be a very exclusive area in Miami Beach, located on a man-made island, accessible from the MacArthur Causeway. It is a very high-end and exclusive community of multi-million dollar mansions and high-end converted condominiums.
As Al-Rasid stated in a press release, "My family and I are deeply rooted to the beauty of Hibiscus Island and the peaceful waterfront lifestyle it provides. We are pleased to have added two additional properties of the east side our home in a few short months, allowing us to expand by building additional structures, as well as adding beautiful green space."
Al-Rashid was represented by Jeffrey Fields of ONE Sotheby's International Realty of in Coral Gables. "The islands provide a lavish lifestyle and offer Miami Beach security, a park, basketball, tennis courts and water, " said Fields. "The market for these islands is very hot at a time when people are spending more time at home."
Cesar Molina, of CMA design Studio, Inc. the architect for Al-Rashid's original property on the island, will also design the addition of the 184 S. Hibiscus Drive.