The Miami Master Brokers Forum, a network of the area's elite real estate professionals, recently honored Alicia Cervera Lamadrid with its prestigious Legacy Award.
Cervera Lamadrid, a founding MBF board member and past chair, accepted the honor at the chapter's 2020 virtual holiday celebration, nine years after her mother Alicia Cervera became the first person to ever receive the award in 2011.
"I am extraordinarily honored and humbled by this recognition from my Master Brokers Forum colleagues," said Cervera Lamadrid in a press release. "Since my mother first received her Legacy Award in 2011, I have held this distinction in the highest esteem, and am truly humbled to join the illustrious company of previous honorees."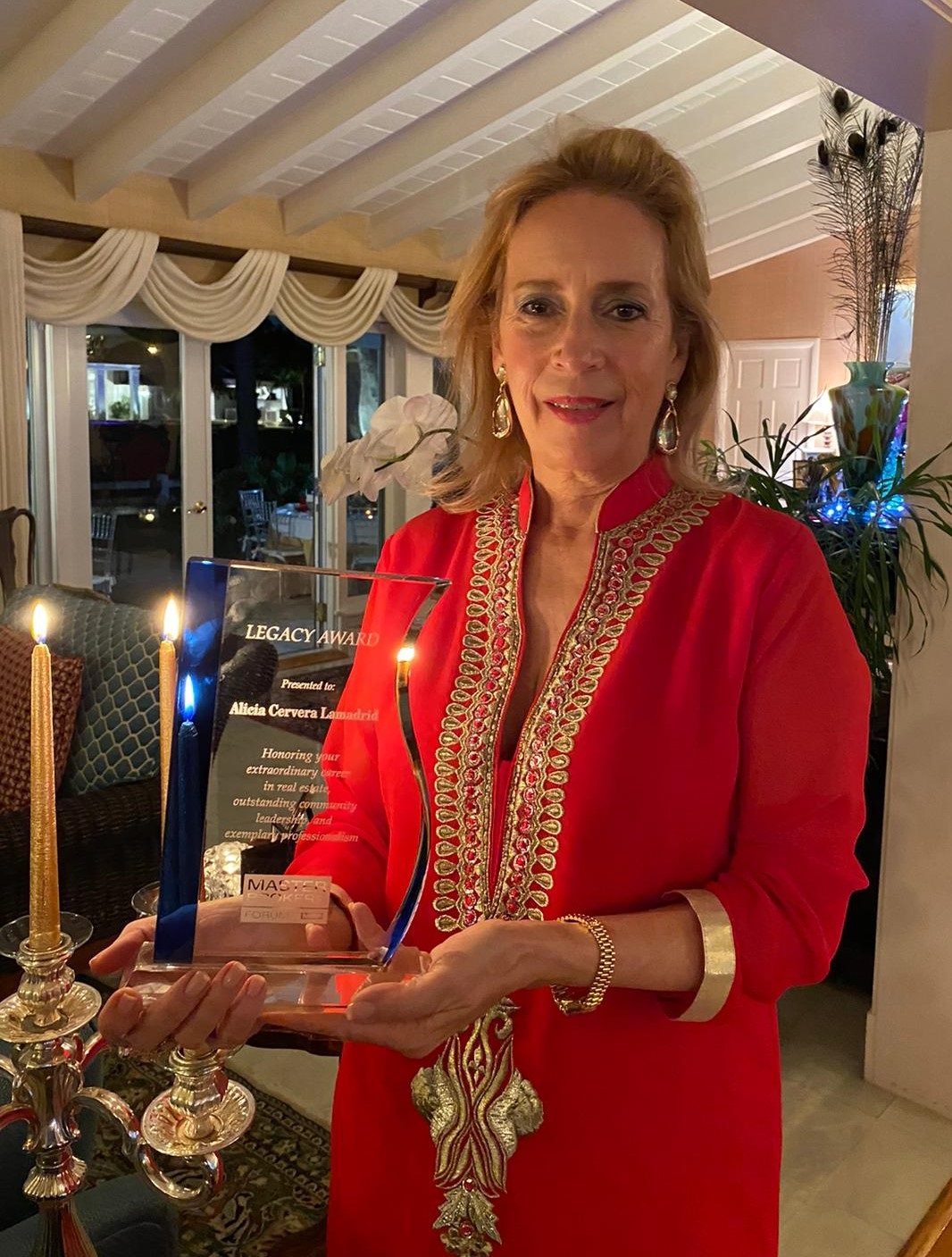 Miami-raised and Havana born, Alicia Cervera Lamadrid comes from a family whose name is synonymous with luxurious land holdings. She grew up surrounded by real estate, with both parents in the business (Cervera founded Cervera Real Estate, Miami's first real estate firm specializing in developer sales). Cervera Lamadrid joined her mother's firm in the early 1980s and quickly rose the ranks, taking on different roles and learning the business from the ground up.
In 2000, the Related Group invited Cervera Lamadrid and Cervera Real Estate to join forces, becoming Related Cervera Realty Services. In 10 years, under the leadership of Cervera Lamadrid, the brokerage sold over 14,600 units, representing over $6.8 billion.
In 2011, Cervera Lamadrid was named Managing Partner of Cervera Real Estate and together with the company's leadership spearheaded an effort to expand the company base. Today, Cervera Lamadrid oversees over $4.5 billion of real estate sales in both pre-construction and general real estate.
"We were delighted to present this year's Legacy Award to Alicia, who has become one of the most respected and sought-after real estate leaders in our community," said Miami MBF Chair Jeff Morr in the press release. "Particularly in a year fraught with unprecedented challenges for our industry, her voice remains a steady, calming influence with a focus on Miami's destined greatness, and we are incredibly fortunate to have her in our ranks."
Past MBF Legacy Award recipients include Ms. Cervera and Evelyn Framer (2011), Jeanne Baker (2012), Rosalie Elliot (2013), Teresita Shelton (2014), Consuelo Stewart (2015), Helen Jeanne Nicastri (2016), Ron Shuffield (2017), Charlette Seidel (2018), and Darlene Dale (2019).