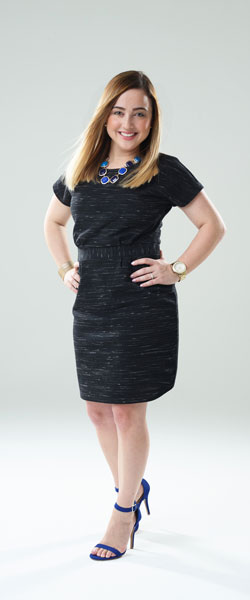 Number of years in real estate: Three
Describe your look: I would say a combination of chic, classic and fun. I love to wear black but with pops of color.
What do you consider a "fashion don't?" Whether you will see a client or not, don't go too casual. If you are dressing down with jeans, make sure to add a nice pair of heels.
What is your favorite piece of clothing and why? This would have to be jeans. They just feel great, look great and can be worn in a casual setting or dressed up.
What do you consider a must-have accessory? A watch. No matter what it is that I am wearing or where I am going, I always have my watch on.
What is a fashion crime you have committed in the past? To be honest, there are too many to list. I think we all go through fashion crimes that in the moment you think you look great, but then you see photos and you say to yourself "WHAT was I thinking?"
Where are your favorite places to shop? I usually like going to small boutiques in South Miami and Coral Gables. But, my all-time go to favorite place is Nordstrom or Nordstrom Rack. You can never go wrong and the customer service is the best.
What, besides your wardrobe, completes your look? My smile and my earrings, a nice pair of studs, make me feel absolutely complete.
What is in your bag/briefcase? I have my agenda/planner (yes, I still use a paper agenda, there's something special about writing things down), my iPhone, business cards, pens and lip gloss.
My closet is full of…T-shirts. I have so many and it is still never enough.
What is your style advice for other people in the industry? Dress for you. Sometimes you feel as though you have to wear certain things to be perceived a specific way, but I have learned this is not necessarily true. Be comfortable in your clothes, wear what works best for you.
Dress is from Lulu's, shoes are from Nordstrom Rack, earrings are from Nordstrom, necklace is from Charming Charlie's, watch is Michael Kors
Do you have a signature style? To be profiled in this feature, send a note to [email protected]