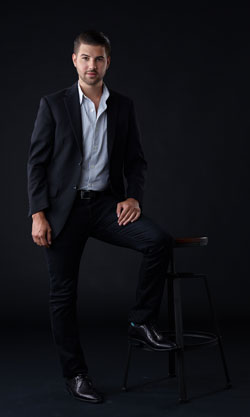 Number of years in real estate: Two
Describe your look: I'm all about comfort, but I don't think you need to sacrifice style in order to be comfortable. My go-tos are a casual t-shirt and jeans or slacks, and if need be, I'll throw on a blazer to dress it up. Miami isn't conducive to so many layers of clothing.
What do you consider a "fashion don't?" Anything you wear that makes you feel self-conscious is a "fashion don't" in my book. Confidence is key.
What is your favorite piece of clothing and why? I have a pair of jeans from All Saints that I seem to wear constantly. You know, that perfect pair that can be dressed up or down. They're my go-to at the moment.
What do you consider a must-have accessory? A nice timepiece – elegant and classic; it's my staple accessory.
What is a fashion crime you have committed in the past? I'd like to think everyone committed this fashion crime: the baggy/slouchy jeans. What was I thinking?
Where are your favorite places to shop? Currently I frequent: Nordstrom, All Saints, Bonobos, Revolve and Betabrand.
What, besides your wardrobe, completes your look? My hair. I think a good grooming all around goes a long way.
What is in your bag/brief case? Business cards, keys, iPhone charger, note pad, laptop.
My closet is full of…Comfortable tees, broken-in jeans, boots and sneakers.
What is your style advice for other people in the industry? First impressions matter. Take the time and care about how you're dressed and groomed. Confidence is key. If you feel good, your clients will take notice.
Jacket and pants are Hugo Boss, shoes are Kenneth Cole, shirt is from J. Crew
Do you have a signature style? To be profiled in this feature, send a note to [email protected]